Survive! Inside the Human Body, Vol 1: The Digestive System by Gomdori Co. & Hyun-Dong Han
$12.92 at Amazon
Survive: Inside the Human body is a fun way to learn about how the body works. In this first installment of the series, after being shrunk and accidentally eaten, Geo and Dr. Brain must fight their way through Phoebe's digestive system without falling prey to stomach acid or parasites and without harming Phoebe.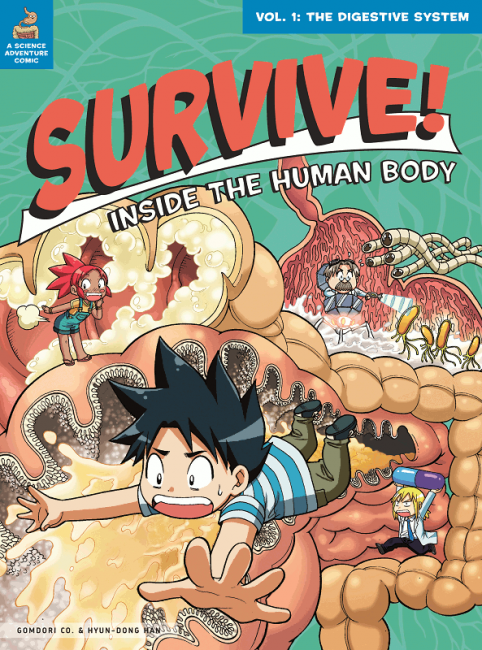 The book is drawn in a clean anime style and is fun to read while being extremely educational. It's been a long time since I took high school biology, so I learned a lot from reading this book; at the same time, I expect it would be accessible to children (the recommended age is 8 and up, although Amazon has it as 7 and up). Every so often there's a break from the story for several pages of more in-depth detail on the body part we're currently traveling through, which I imagine the youngest readers might decide to skip.
The book has a fair number of "Really? Ewww!" moments (this IS the digestive system, after all) that kids will get a real kick out of. The translation is excellent, with none of the lingual artifacts you often find in translated works. Highly recommended.
Disclosure: I received a free review copy of this book.
This entry was posted by William on Thursday, December 12th, 2013 at 2:55 pm and is filed under
General Nonfiction
. You can follow any responses to this entry through the
RSS 2.0
feed. You can
leave a response
, or
trackback
from your own site.